Prey: Mooncrash – Blue Moon Update Trailer | PS4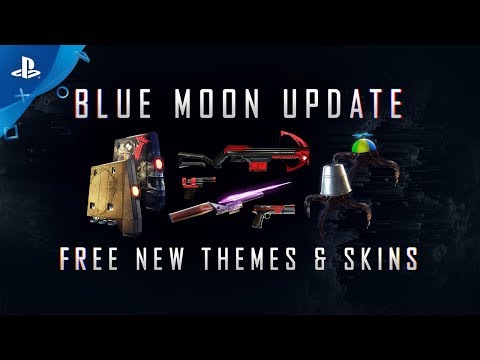 Prey: Mooncrash receives its second free update. In each of these update bundles you'll receive brand-new skins for your weapons, Operators and Mimics. And this isn't the end of the freebies; even more Mooncrash updates are on the horizon. The next will be available in just a couple of weeks (Aug 7), and the much-anticipated Typhon Hunter multiplayer update comes later this summer. Check out the latest trailer and see everything the Blue Moon update has in store below.
The Blue Moon update is free for all Mooncrash or Prey: Digital Deluxe owners and includes:
– Kasma Silenced Pistol
– Kasma Psychostatic Cutter
– Kasma Huntress Boltcaster
– Kasma Disruptor Stun Gun
– Wolfenstein Theme Operator
– Elder Scrolls Online Theme Operator
– Bucket Mimic
– Propeller Mimic
Want even more Prey? Tune into Mooncrash Mondays on Twitch every Monday at 3:30pm EST to get behind-the-scenes info on the game you love.
https://prey.bethesda.net/dlc/
Rated Mature: Blood, Language, Use of Alcohol, Violence
© 2018 Bethesda Softworks LLC, a ZeniMax Media company. Prey, Arkane, Bethesda, Bethesda Softworks, Zenimax and related logos are registered trademarks or trademarks of Zenimax Media Inc. In the U.S. and/or other countries. All Rights Reserved. Portions of the Prey game software are included under license © 2004-2017 Crytek GMBH. All Rights Reserved. The Prey game software includes Autodesk® Scaleform® software, © 2012 Autodesk, Inc. All Rights Reserved. All other trademarks or trade names are the property of their respective owners. All Rights Reserved.
Source: Playstation YouTube
—