Dynasty Warriors 9 Empires – Gameplay Features Trailer | PS5, PS4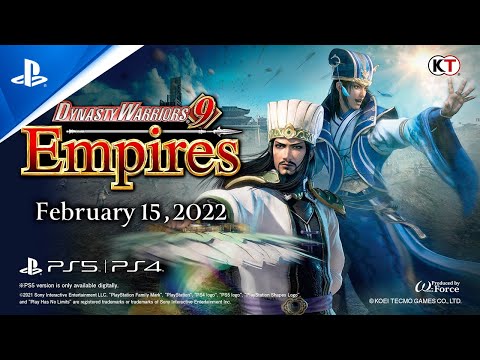 DYNASTY WARRIORS 9 Empires is currently in development and will release in North America on Feb. 15, 2022 for the PlayStation®4 and Digitally on PlayStation®5*.
DYNASTY WARRIORS 9 Empires adds tactical and strategic war elements to the 1 vs. 1,000 action of KOEI TECMO's revered DYNASTY WARRIORS series, enabling gamers to take to the battlefield and find success with not only the sword but through a robust political system in their attempts to conquer Ancient China. The game features scenarios that transport gamers to different periods, enabling them to play through historic moments like the Yellow Turban Rebellion and the Battle of Chibi. But just because you're playing through historic periods, doesn't mean you need to follow history in order to be successful. Re-write your own history of the Three Kingdoms in ways you've never imagined, like unifying China with all officers from Wu still alive, or by assembling your favorite officers into one command, or even by sparking a rebellion to take control of the map!
In addition, DYNASTY WARRIORS 9 Empires will receive an upcoming demo before the game launches, in early 2022. In the demo, gamers will be able to experience the new evolved castle sieges, including both invasion battles and defense. Fans will also be able to try out the full version of the game's edit mode, enabling the complete creation and editing abilities of new officers in detail before release. The edit officer data can then be transferred from the demo version to the full game as long as you are playing the same platform on both the demo and final product.
Source: Playstation YouTube
—